Welcome To The I Love Bears Webring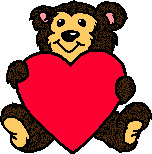 ---

The I Love Bears Webring is a webring designed for anyone who loves bears. All sites who joins will have a site suitable for children. All links and graphics will not have any pornography, violence or foul language on it. Also these sites must not violate any copyrights that I know of. If you love bears like I do and you are interested and your site fits these requirements than follow these steps below to join.

---
Submit your site to join The I Love Bears Ring here:
I want to join The I Love Bears Ring
You will then receive a notification by email a few minutes after you submit your site, verifying your submission and
supplying the ring code that you need to add to your web page.
Your site is still not active at this point. The ring
owner will review your site, checking that the ring code is in place.
If everything is ok, then I activate your site in the ring.
Save the image below.( ilovebears.gif ) Upload it to your hard drive.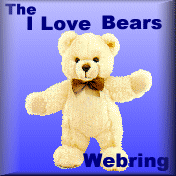 ---
If you are already a member and you want to edit your site
Please use this LINK.
---
E-Mail
Home